Photo by Robert Herrmann ©️2019
Originally Published On http://www.cafleurebon.com   13 April, 2019
Azzi Glasser is a British bespoke perfumer very popular with Hollywood, BBC stars, (Jude Law, Justin Timberlake, Johnny Depp, Orlando Bloom, Kylie Minogue, and Cindy Crawford among others) or anyone looking for extraordinarily beautiful, interesting, and quirky fragrances that stand out in a crowd. 2015's limited edition Twisted Iris perfume by Ms. Glasser's company The Perfumer's Story is a textbook example of the Azzi Glasser style; completely distinctive and on-trend with hidden depths.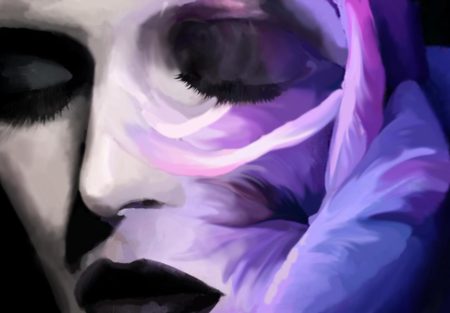 Also a certain "Je ne sais quois" that is both beautiful and over-the-top extravagant. Trompe L'oeil (pronounced traump-LOY) which means "fool the eye", is a style of painting used to create three-dimensional images on one-dimensional surfaces. How do these two intersect?  The Perfumer's Story By Azzi Glasser Twisted Iris is a spot-on scented olfactive trompe L'oeil, an iris-centric perfume that contains no iris, but cunningly fools your nose into believing that iris is the star of the show.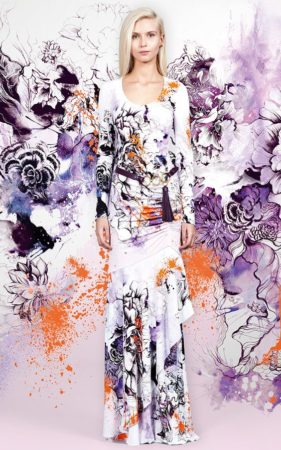 Roberto Cavalli Pre-Fall 2016 
"Iris is beautiful, creative, and carefree with this incredible quirky side that is truly irresistible." – Azzi Glasser
The Perfumer's Story By Azzi Glasser Twisted Iris is more akin to Violet her younger niece, who has slipped unnoticed into her chic Auntie's wardrobe and "borrowed" her slinkiest dress for a night  of dining, dancing, and clubbing.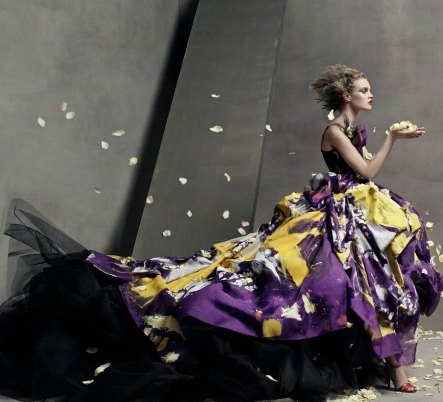 US Vogue January 2008 *Photographer Steven Meisel©
Opening with a strong presence of citrus from the petitgrain, bergamot, lemon and neroli, you might think you've stumbled into a mens classic eau de cologne, the vibe strengthened by clary sage and a wisp of moss from the base. Don't be fooled however, this "iris-wolf" in "violet-sheep" clothing is an eau de parfum through and through. One minute it's a classic cologne, the next you'd swear it was an iris-centric chypre. The bergamot-heavy earl grey tea note provides a slightly bitter and tannic fustiness that offset the floralcy of the middle notes of jasmine and geranium. Shifting and changing faster than a chameleon can change color, The Perfumer's Story By Azzi Glasser Twisted Iris is twisted indeed, not in a "twisted=crazy" but more like "twist and shout", since you'll be shouting for joy when you find yourself sniffing your wrist all day long and whether you think you smell iris or not, The epitome of the perfect Boho-chic fragrance, The Perfumer's Story By Azzi Glasser Twisted Iris is sheer delight from start to finish. If I had first discovered it on its release in 2015 there is no question that it would have been in my top ten of that year.
Notes: Earl Grey tea, petitgrain, fig, bergamot, lemon, violet, jasmine, clary sage, geranium, neroli, cedarwood, moss, galbanum, musk
Azzi Glasser via instagram
Disclosure: Thanks so much to Europerfumes for my tester of The Perfumer's Story By Azzi Glasser Twisted Iris. The opinions are my own.
-Robert Herrmann, Senior Editor
-Art Direction: Michelyn Camen, Editor-in-Chief
Follow us on Instagram @Cafleurebon @fragrantwanderer @theperfumersstory #azziglasser
Available at Saks Fifth Avenue and Net-a-Porter as well as other fine stockists