Photo by Robert H
Originally Published On http://www.cafleurebon.com   18 May, 2019
Released in 2016 as part of the Black Collection, Carner Barcelona Rose and Dragon (composed by award winning  master perfumer Rodrigo Flores-Roux) is a perfume that plumbs the very depths of a rose's dark heart.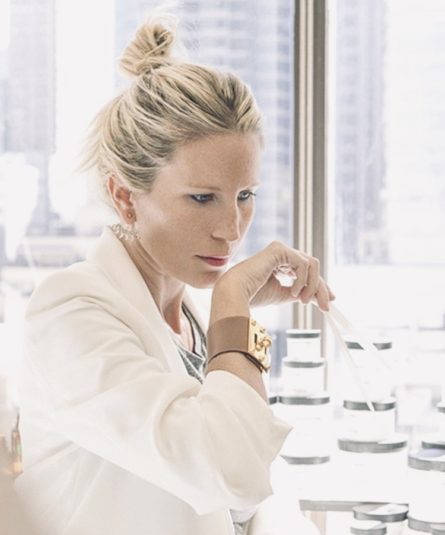 Sara Carner via Sara Carner
Carner Barcelona's Rose and Dragon, brand owner/creative director/ Sara Carner takes inspiration from the Catalan re-telling of Saint George and the dragon…"…And Saint George appeared to save the princess from the ferocious dragon, fought against his flames, stabbed him with his sword and from his blood a rosebush with dark red roses grew…" -Carner Barcelona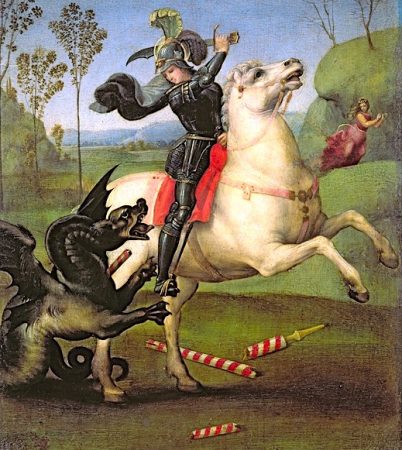 St George Raphael via The Louvre.com
The legend of St. George actually predates Christianity and has it's origins in the ancient Egyptian mythos of Ra the sun god fighting Tiamat an evil winged crocodile/serpent. At its heart it's a classic "Hero's Journey" tale or even more simplistically, just good vs. evil, light vs. dark. Within the Christian canon, the story was originally told with Saint Theodore as the protagonist, but by the 11th century C.E. poor Ted was relegated to the back-burner, and George was his replacement. Thus has it been ever since.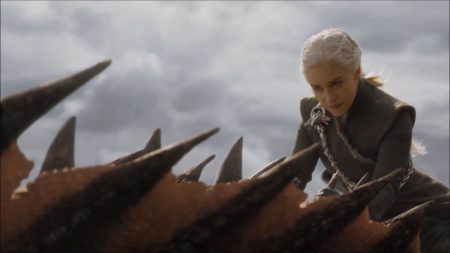 Daenerys Targaryen "The Bells" via youtube HBO
Carner Barcelona interprets this ages-old story to perfection, blending rose and leather with other notes that serve to support the narrative. Like a gust of spiced fire from a dragon's throat, Rose and Dragon opens with an almost oudh-like blast of saffron tinged with the slightly sweaty cumin, but even from the very start it's clear that rose is the star of this show. If you are a Game Of Thrones fan (last episode 5/19/19 is the finale)  then you could imagine this might be the scent of Daenerys Targaryen flying astride the scaly Drogon scattering honeyed rose petals over the Dothraki Sea (Michelyn says most likely not scattering rose petals after last week's MAD Daenerys in "The Bells").  It is both deeply masculine and feminine. Ultimately conjoining the rose and leather, a smoky darkness begins to intwine throughout and the presence of castoreum mixed with labdanum gives a resinous and reptilian animalic vibe. Like a veritable beauty and the beast, Carner Barcelona Rose and Dragon skims the surface of light vs. dark, sometimes diving down into the fathomless dark, then up into the rosy light of dawn; a potent and captivating fragrance that any diehard rose or leather fan will be compelled to wear.
Notes: Persian saffron, Cumin essence, Wild strawberry accord, Cinnamon leaves, Bulgarian rose essence, Turkish rose absolute, Manuka honey, Ethiopian frankincense extract, Castoreum, Leather accord,Andalusian labdanum resin, Amber
Disclosure: Thanks so much to Europerfumes for my tester of Carner Barcelona Rose and Dragon The opinions are my own.
-Robert Herrmann, Senior Editor
Special thanks to Joaquim Carner for his help with identifying Rodrigo Flores-Roux as the perfumer!!!
Follow us on Instagram @Cafleurebon @fragrantwanderer @official_europerfumes @carnerbarcelona