Originally Published at cafleurebon.com 9 June, 2019
Earlier this year Angela St. John of Solstice Scents released Orient Rose and concurrently re-launched a  gourmand/chypre from 2015 aptly named Edge Of The Night. If you're familiar with Solstice Scents perfumes and oils, then you already know how quickly they sell out, often within hours of being released online. There's a good reason for this, as Angela St. John's perfumes, oils, body and bath products are artfully and masterfully blended and flat-out divine. If you're new to Solstice Scents then I urge you to try Estate Carnation, Sea Of Grey, and Guardian (created for Cafleurebon's Talisman Project) among so many wonderful others. Once you're a fan you're a fan for life.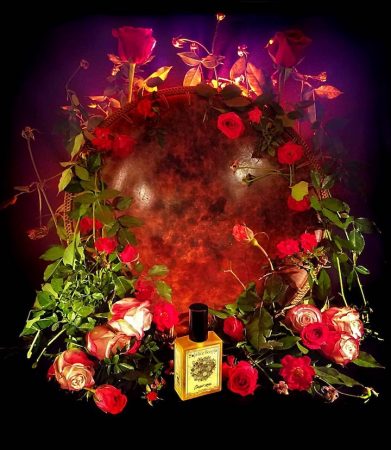 photo courtesy of Angela St. John
Solstice Scents Orient Rose is a rose lover's dream come true. As a charter member of the unofficial "Rose Ho's Anonymous", Solstice Scents Orient Rose went straight to my heart and like Cupid's arrow, lodged there and has taken up residence.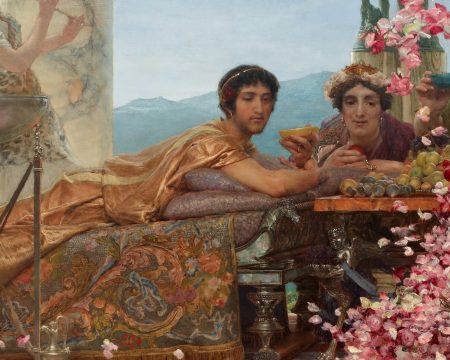 Sir Lawrence Alma-Tadema The Roses of Heliogabalus, 1888 detail Tutt'Art@
It is everything I could hope for in a rose perfume, full of complexity, shadow and light; an olfactory "nose-gasm" (or rose-gasm) at every sniff. Opening with a wet and dewy rose, which quickly morphs into another aspect of rose this one spicy, then another rose as lush as a blowzy David Austin champion rose, the effect is one of a morning visit to a formal rose garden; moving amongst various varieties each with their own distinct rosy scent. There are spicy roses, aquatic-smelling roses, roses that have the aroma of rose jam or pink rose Macarons from the bakery. A surfeit of roses until you head is swimming with rose overload. According to Angela St. John," Solstice Scents Orient Rose was supposed to be for Valentine's Day 2019 and was so popular we sold out. It will be back in stock  by mid week (June 11th or so)".
Notes: Moroccan rose absolute, Bulgarian rose absolute, Turkish & Bulgarian rose otto, Rose de Mai, rose attar, tea rose accord, vanilla & white musk, amber, ambergris, India vetiver, oriental spices accord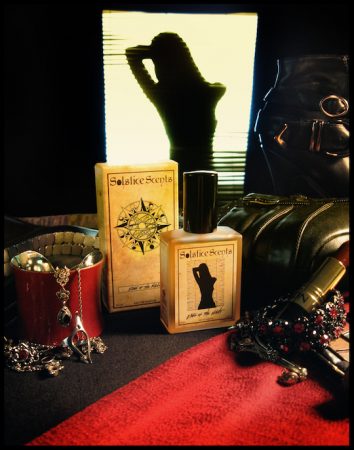 photo via Angela St. John
Solstice Scents Edge Of The Night:  If like me, you love gourmands, florals and vintage chypre-style perfumes, then Edge Of The Night demands to be in your collection. Sold out in its debut in 2015 and now un-vaulted and back in circulation, Edge Of The Night is a perfect study in contrasts. Outrageously sexy and dark, this is a gourmand chypre perfect for a night on the town ending with a night in bed but not alone.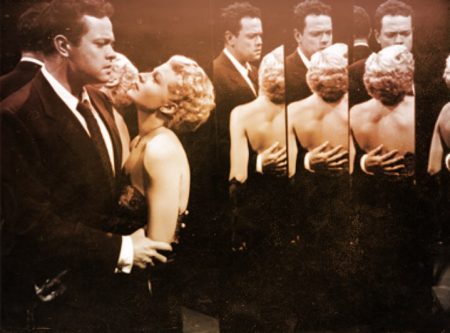 Lady Of Shanghai Mirror Scene Orson Welles and Rita Hayworth apped by Michelyn
A true scented chameleon, Edge Of The Night wears quite differently depending on temperature. When I first tested it in March, the weather was still chilly, and Edge Of  The Night was a beautiful classic chypre, with the oakmoss, patchouli, and oudh taking center stage like true divas. Now with the warmer weather, it's much more gourmand with the spices, amber, and musk in the forefront. The chypre vibe is still there, just dialed back. Regardless of the shifts and changes, the perfumes wears terrifically in any weather, and to anyone who might be "oudh-averse" fear not, forefront or background, the oudh is masterfully blended to support and ground the lighter notes, giving  Solstice Scents Edge Of The Night its very own edge over similar scents and making it that much better
Notes: Amber, oakmoss, patchouli, bergamot, black vanilla, red musk, buddha wood, clove EO, star anise EO, cinnamon, lavender absolute, oudh
Solstice Scents perfumes are available through their website
Disclosure: A million thanks to Angela St. John for the samples! The opinions are my own.
–Robert Herrmann, Senior Editor
-Art Direction: Michelyn Camen, Editor-in-Chief
Follow us on Instagram @Cafleurebon  @fragrantwanderer @solsticescents