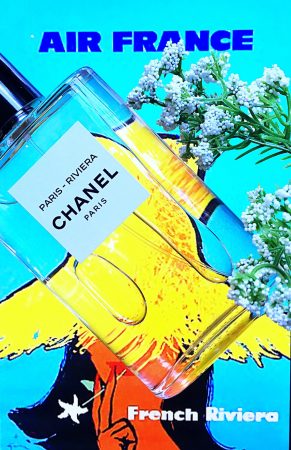 Collage of Chanel Paris-Riviera by Robert H
The very latest in Chanel's 2018 range Les Eaux has arrived and it delivers everything it promises, but for a First Class roundtrip ticket and a Mediterranean-View suite at the Hotel Du Cap Eden Roc.  Introduced last year, Chanel's Les Eaux was a slight departure from their status quo, delivering a lightened-up series of eau de toilettes perfect for warm weather. Each one named for a location with close ties to Coco Chanel. Chanel and I have a fairly uncomplicated relationship. They make it. I buy it. I love it. This has proven to be true time and time again, with almost every release. Chanel Paris-Riviera is no exception. Following in the footsteps of Paris-Deuville, Paris-Venise, and Paris-Biarritz, Paris-Riviera plays tribute to Coco Chanel's beloved home La Pausa. Although preceded by 2016's La Pausa EdT, a glorious melange of powder, iris, and wood, the new Paris-Riviera moves the party outdoors and into a summer citrus grove.  In-House perfumer Olivier Polge has created a joyous, sparkling, tribute to everything orange, which may very well be my favorite of the four Les Eaux.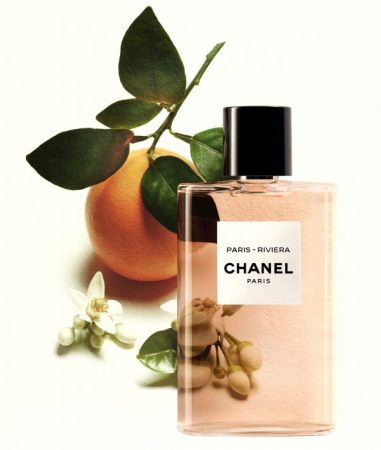 Photo via CHANEL
Orange is the quintessential diva in Chanel Paris-Riviera, opening with a freshly peeled citrus bursting with juices and complete with the slight bitter of the pith. The opening is so bright and bubbly you'd expect to find the champagne-zing of aldehydes, but this is all citrus, all the way, an ice cold glass of orange, lemon, & lime juice mixed with a hefty splash of San Pellegrino. The opening sets the mood for the whole Paris-Riviera experience, which must be one of the happiest and most joyful perfumes I've had the pleasure to wear. Chanel Les Eaux Paris-Riviera is a scent that makes me smile and giggle. During the course of the wear, jasmine adds a sweet floralcy to cut the sharpness of the fruit, and the benzoin and sandalwood create a beautiful creamy and woody base; a perfect amalgam which keeps this fragrance going and going. Imagine Atelier Cologne's Cedrat Enivrant or Tom Ford's Fleur De Portifino, but made more engaging with that unmistakable sophisticated magic mix of Chanel DNA to bring it to fruition, and dare I say perfection. I can easily imagine Chanel Paris-Riviera being on my best of 2019 list.
Notes: Orange peel, flowers, citruses, neroli, jasmine, benzoin, sandalwood.
The perfume and opinions are my own.
–Robert Herrmann, Senior Editor